New Generation DAF XB Electric
Built for the city
The new and versatile truck to suit your distribution needs. The New Generation DAF XB Electric is the ideal workhorse for operators looking to limit carbon emissions. The DAF XB Electric is ready to suit your business requirements, available in 12t, 16t and 19t variants, the 12t version with 17.5″ wheels and one step entry ideal for distribution in urban locations and is the only compact 12t electric truck currently available on the market.
The e-motor of a DAF XB Electric provides 120 or 190kW of nominal power depending on the specification and a nominal torque of 950 and 1.850Nm respectively. For the lowest possible environment impact and highest durability, DAF applies a cobalt and magnesium-free lithium iron phosphate high energy battery packs. Allowing the XB Electric ranges of up to 350 low noise and emissions-free kms; ideal for the needs of urban distribution transport operators.
The DAF XB Electric is equipped with Combined Charging Systems, allowing the truck to be charged through the regular electricity network. Rapid charging from 20% to 80% will take between 40 to 70 minutes depending on chosen specification.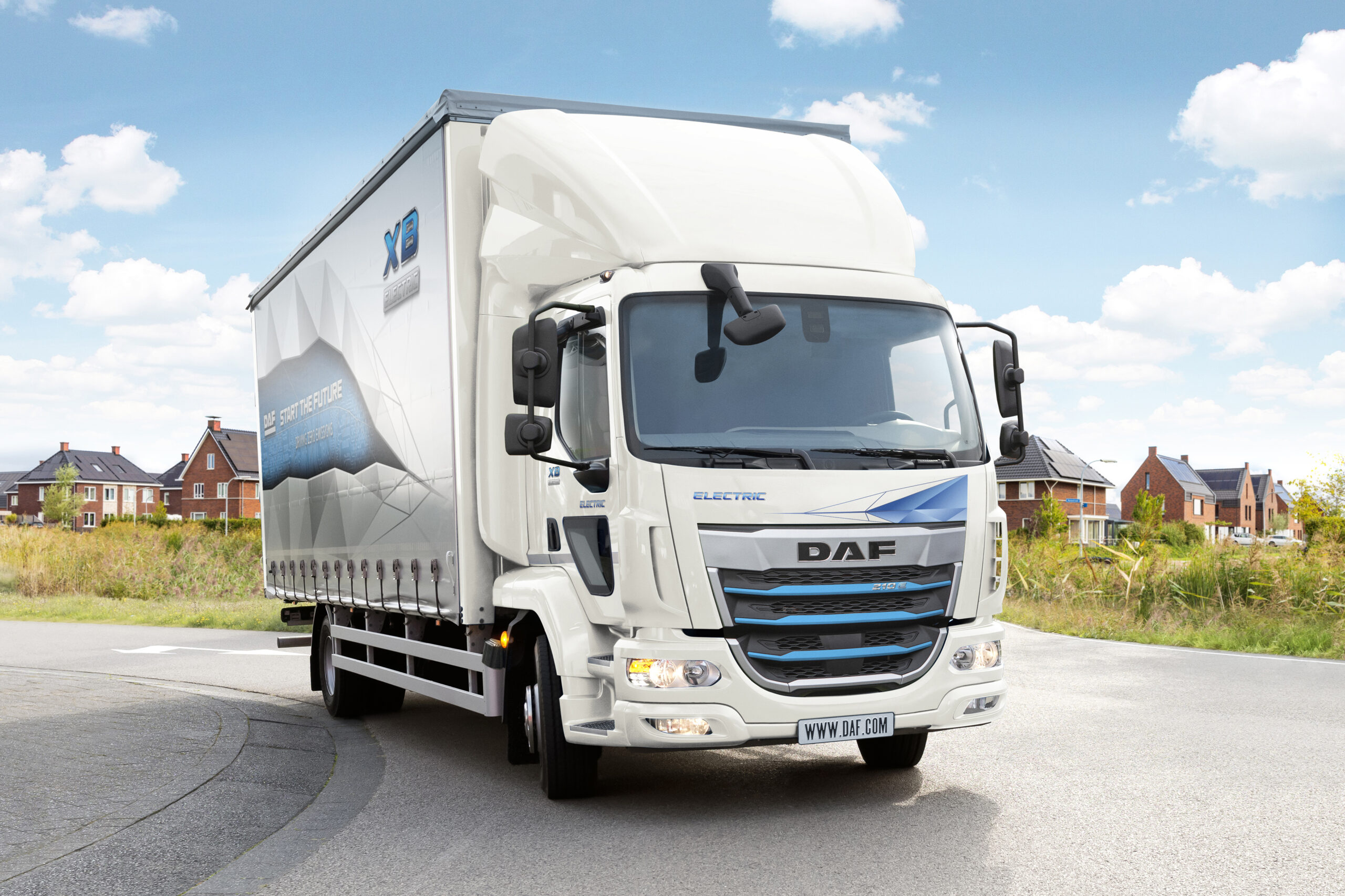 Versatility and flexibility
The XB Electric features customisable battery configurations, a flexible chassis design and is body-builder friendly to ensure that it can be tailored to suit any business operation.
Unmatched driver comfort
DAF trucks are consistently rated among the most comfortable and the DAF XB Electric is no exception. Featuring a generous cab width with a staircase step for easy entry – perfect for multi-drop inner city drivers.
For ultimate driver comfort, the DAF XB Electric also has extra cushioning to make longer journeys more comfortable. Modern styling meets a spacious interior utilising high-quality materials, soft trims and upholstery to create an inviting driving experience. The Sleeper Cab is equipped with a soft mattress and black-out curtains to ensure a comfortable and optimal sleep.
Unequalled safety
Safety is ingrained into the new DAF XB. Split into two components, meeting customer safety needs and EU safety legislation.
The DAF XB is equipped with a number of features, a sample is available below; DAF Drowsiness Detection, Drive-off Assist, DAF Turn Assist, Event Data Recorder and Digital Information Panel.
Get in Touch about the New Generation DAF